Jadegy Adventurine Jade Face Roller Gua Sha Set and Vitamin C Serum | Improve The Appearance of Your Skin, Provide Relaxation, Massage Your Face & Enhance Your Skin Care Routine | Real 100% Natural Jade Stone Kit for Face & Neck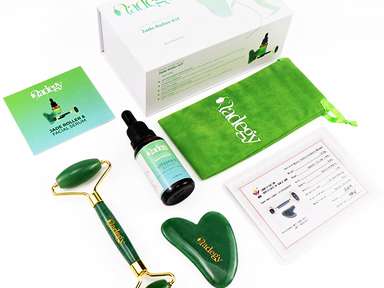 Jadegy
JADE Face ROLLER
Natural & Premium
LUXURIOUS MASSAGING EXPERIENCE
Improved
circulation & deeper penetration of skin care products
REDUCED PUFFINESS & INFLAMMATION
Helps reduce dark
circles, fine lines & wrinkles
REJUVENATING & REFRESHING
Cool natural
stone reinvigorates skin cells & helps have healthier skin
Skin-Friendly
Personal Care kit
AUTHENTIC
Smooth Touch
& Feel
Handcrafted with
Love
INCLUDES
· ADVENTURINE JADE Face ROLLER
No
sharp parts chemicals or toxics – No squeaking – Natural & Exquisite yet
Solid Build
· VITAMIN
C SERUM
Deeply
moisturize, reap anti-ageing benefits & brighten up skin
· GUA
SHA TOOL
Natural
scraping tool for improved micro-circulation, healing, and reduced inflammation
· JADE
AUTHENTICATION CARD
Certificate
reassuring you of the authenticity of jade
· USER
GUIDE
Easy
to understand instructions to help you use it the right way & effectively
VITAMIN C SERUM
JADEGY
VITAMIN C SERUM
ANTI-AGEING |
NOURISHING | BRIGHTENING
1 oz (30 ml)
CAUTION
For external use
only – please avoid use on scratched or damaged skin. Discontinue use if
redness, irritation or discomfort occurs. Avoid direct contact with eyes. Store
in cool dry place. Keep out of reach of children.
Handling
We will ship all orders within 1 business days of payment.
Delivery
We do not ship outside of the Continental US.
Feedback
We take our reputation seriously, we buy and sell online, so we understand the value of trust. If you are unsatisfied with your order, please contact us and we will work with you to resolve it to your satisfaction.